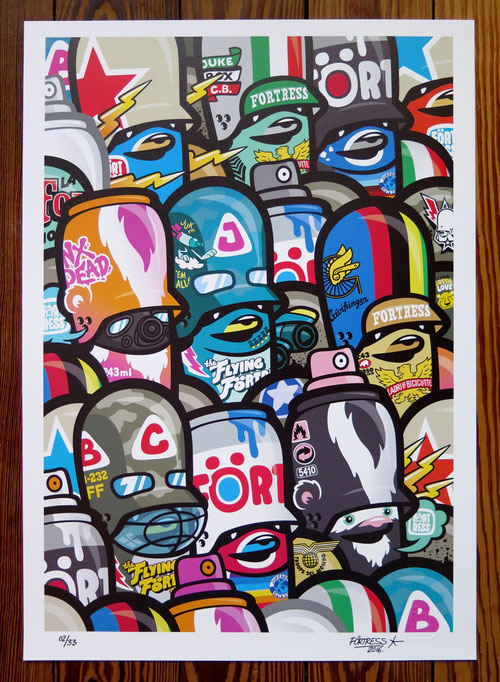 Sombody's back from the battle field!
Maybe all of you have already heard about the upcoming new Teddy Troops 2.0 series...?!
Finally — after a little little break — the Troops are back from the fields and ready to reclaim the vinyl land. With an all new shape and new strength, force and fresh uniform designs.
Proudly in colaboration with non other than my friends from ARTOYZ.COM from Paris!
But while these little fellas still need some time to hit the stores we are just bridging the time and bringing you all those upcoming Trooper designs together in this new limited print.
It's issue #6 of FLYING FÖRTRESS' limited print series called "Travel Memories". And it might be the most colorful one so far! This yummy new print might be a blast of a backdrop-piece for your classic and upcoming collection of vinyl toy Troopers...
Details:

"Travel Memories #6 - Reclaim Vinyl Land" by Flying Förtress

• limited edition of 33 only!
• highly pigmented fine art print on satin matte white 300g/qm paper.
• signed & numbered by the artist
• embossed FÖRTRESS logo
• size: 42 x 59,4 cm (Din A2) / approx. 16.5 x 23.4 inch
• year: 2016
• exclusively available at our new store only!
• ships from November 25th, 2016
SOLD OUT!
available NOW here:
http://teddytroops.bigcartel.com/product/travel-memories-reclaim-vinyl-land-print